U.S. Customs and Border Protection Announced Mobile Passport Control App
---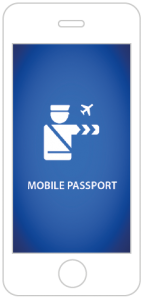 U.S. Customs and Border Protection (CBP) has launched Mobile Passport Control (MPC), the first authorized app to expedite a traveler's entry process into the United States. MPC will allow eligible travelers to submit their passport information and customs declaration form via a smartphone or tablet prior to CBP inspection.
This new app was developed as part of a pilot program at the Hartsfield-Jackson Atlanta
International Airport. Travelers going through this airport can download and use the app on their iPhone and iPad. The app's goal is to facilitate travel and tourism to the United States, while still maintaining high security standards.
Eligible travelers arriving at the Atlanta Airport can already use the app. CBP hopes to expand the use of MPC to more airports later this year. They also have plans to make it compatible with Android smartphones in the future.
CBP hopes that the app will build upon the success of Automated Passport Control (APC), which has resulted in decreases in wait times as much as 40 percent, despite continued growth in international arrivals. The APC, available in 22 locations, is another CBP program that expedites the entry process for U.S. travelers, Canadian travelers, and eligible Visa Waiver Program international travelers. It provides an automated process through CBP's Primary Inspection area.
Much like Automated Passport Control, the MPC does not require pre-approval. It can be downloaded for free from the Apple App Store, and it will not collect any new information from travelers. With the expansion of the MPS, travelers will hopefully experience less congestion and wait times, as well as faster processing.
Ivener & Fullmer, LLP is a business immigration law firm serving human resource professionals, business owners, in-house attorneys, international business people, foreign investors, and entertainers. If you have any questions, please contact an Ivener & Fullmer, LLP partner in our Los Angeles office.